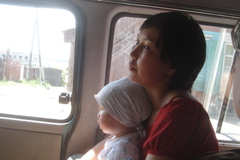 Meet Marie. She's an American who fell in love with Russia and moved there: to the relatively unpopulated Russian Far East, in fact.
In the three audios Marie talks about (1) developing an interest in Russia, (2) getting her first teaching job in the far eastern Chitinski Region, and (3) moving to a larger city, Birobidzhan, the capital of the Jewish Autonomous Region of Russia. Marie also talks about her future – staying in Russia permanently.
Audio One (36 seconds)
In Audio One, 27 words are missing. Yeah, that's a lot! But they are little words, just one or two letters each. Read the text before listening and try to fill them in.
(1) ____ first was interested (2) ____ Russia when (3) ____ was 4 years old, after reading – I had just learned (4) ____ read. And (5) ____ started reading (6) ____ magazine about Russia. After becoming interested (7) ____ the country (8) ____ course (9) ____ read more. Classical literature. History. Russian classical music. Figure skating. Ballet. And when (10)____ was 21 or 22 – I don't remember – I had (11) ____ opportunity (12) ____ come (13) ____ Russia (14) ____ (15) ____ tourist for about three weeks. And (16) ____ soon (17) ____ (18) ____ came into Russia, (19) ____ soon (20) ____ (21) ____ stepped out (22) ____ the plane (23) ____ the airport (24) ____ decided that (25) ____ wanted (26) ____ stay (27) ____ Russia.
Key: 1 – I, 2 – in, 3 – I, 4 – to, 5 – I, 6 – a, 7 – in, 8 – of, 9 – I, 10 – I, 11 – an, 12 – to, 13 – to, 14 – as, 15 – a, 16 – as, 17 – as, 18 – I, 19 – as, 20 – as, 21 – I, 22 – of, 23 – in, 24 – I, 25 – I, 26 – to, 27 – in
Audio Two (1 minute and 4 seconds)
Develop your own listening activity.
Buryat – a person of one of several Asian nationalities in Russia
… So when I returned to the US after that trip I began looking for work, and there was an agency – I think that it's closed now – but there used to be an agency that provided information about which schools in Chitinskaya Oblact were looking for native speakers. And… So through this agency I found a school. They were willing to take me, I was willing to go. So that's how I ended up there. It was a small village of about one thousand three hundred people. There were two Russian families, everyone else was Buryat. So I worked in a school for three years. I taught 2nd through 11th grades. I enjoyed it very much, but village life was very difficult so I decided I needed to move to a city, especially since I almost ruined my health completely. I thought that my salary was alright. I mean it was OK, it wasn't that bad. I lived in a small, in a school apartment. They had a house there that they kept for different teachers. It was actually made of brick. It would've been better if it was made of wood – it would've been be warmer.
Audio Three (1 minute and 4 seconds)
Develop your own listening activity.
… I came to Birobidzhan because somebody mentioned it to me just in passing, and it was interesting because I'd also always been interested in Israel, and I thought I could hit two birds with one stone. So basically I telephoned the department of education, said that I would like to move here, could I find a job? They gave me the number of the Institute. I spoke to the dean. He said, "Please come and we'll sign a contract."  So, I came to Birodbidzhan and I like it. It's very clean, quiet, calm, organized. It's a nice city. And, yes, I do plan to stay here: in Russia permanently, and probably in Birobidzhan for quite some time. It's possible to get permanent residence status. Personally, I would prefer to change my citizenship because I see no reason – I see no reason to keep my American citizenship if I plan to live the rest of my life in Russia. However, I have… I've been told by different people, by Russian people, by my parents, that I would be very stupid to give up my American citizenship, so I don't know. Personally, I would like to get Russian citizenship.

Marie, An American Who Fell In Love With Russia, Part 1
[ 0:36 ]
Play Now
|
Play in Popup
|
Download
(1412)

Marie, An American Who Fell In Love With Russia, Part 2
[ 1:04 ]
Play Now
|
Play in Popup
|
Download
(1362)

Marie, An American Who Fell In Love With Russia, Part 3
[ 1:04 ]
Play Now
|
Play in Popup
|
Download
(1419)