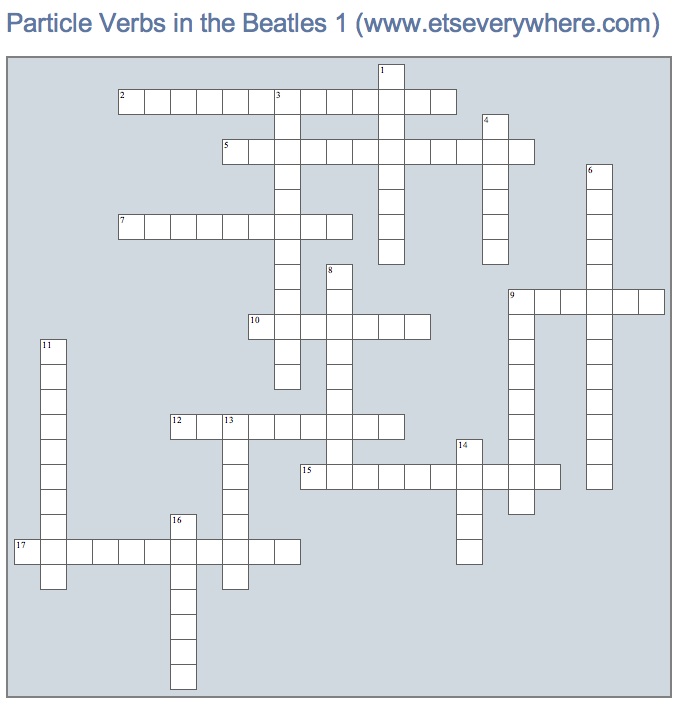 That's right. This crossword has audio clues. There is one mp3 file for "Across" clues, and one for "Down" clues.
Your task, when listening to the very short clips from Beatles tunes, is to isolate and identify the particle verbs (otherwise known as phrasal verbs). These are multi-word verbs such as "let down", "take your time", and "find out." "The particle verb will appear in the crossword exactly as sung by the Beatles.
So for the verb "let down" you will write "DONTLETMEDOWN" – no spaces, no apostrophes.
There are also written clues (see the Beatles Phrasal Verb Audio Handout below). Follow these clues carefully.  If the written clue contains a subject and is in the past tense, like "I discovered the truth," the answer in the puzzle will also contain a subject and be in the past: IFOUNDOUT.  This allows students to explore how the verbs really function.
If you want to do the crossword online, by yourself, just click on this link: Beatles Audio Crossword Online.  This of course will give you the answers to. Listen to the mp3 audio files (below) and type in the missing particle verbs. If you click on the puzzle, you will also get a written clue for that word/phrase.
If you want to do this activity in the classroom, you can use either of these worksheets. A Word document: Beatles Phrasal Verb Audio Crossword handout.doc or a printable PDF document: Beatles Phrasal Verbs Audio Crossword handout.pdf.
If your class is advanced, with experience in particle verbs, you may let them try using the audio alone. Play the audio all the way through, first the across and then the down. If students have trouble, play the audios again. You may pause in between clues if you like. Each audio is just over one minute in length.
I've add answers here too.  Click on the little rectangle.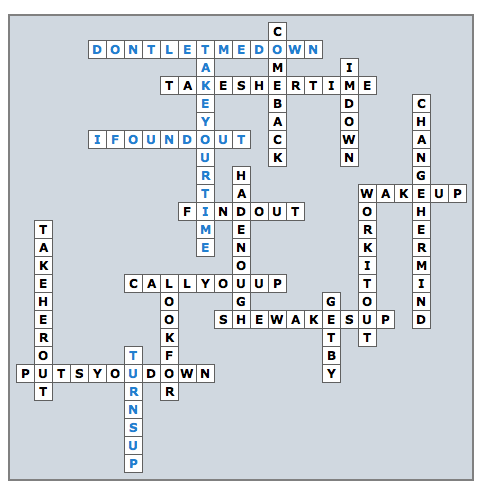 Phrasal Verbs In The Beatles, An Audio Crossword - Across
[ 1:09 ]
Play Now
|
Play in Popup
|
Download
(19162)

Phrasal Verbs In The Beatles, An Audio Crossword - Down
[ 1:20 ]
Play Now
|
Play in Popup
|
Download
(15183)